Ecuador!

Population: 13,755,680 (as of July 2007)

Location: Western South America, bordering the Pacific Ocean at the Equator, between Colombia and Peru

Official Language: Spanish, but also Amerindian languages (especially Quechua)

Official currency: The almighty US dollar!

Climate: tropical along coast, becoming cooler inland at higher elevations; tropical in Amazonian jungle lowlands
Terrain: Ranges from coastal lands, mountain ranges, and Amazon rainforest. One of 17
Megadiverse countries
.


Noted factoids:
Galapagos Islands are a part of Ecuador. Some famous scientist guy was obsessed with the place.
Natural resources: petroleum, fish, timber, hydropower
Religion: 95% Catholic
Exports: oil, bananas, flowers and shrimp
Natural hazards: frequent earthquakes, landslides, volcanic activity, floods and periodic droughts. Cotopaxi in Andes is highest active volcano in world.

Panama Hat invention of Ecuador- not Panama!
In Ecuador, Tuesday the 13th is considered a very unlucky day. No one should ever get married or travel on that day.
Formerly a part of the
Inca Empire
, conquered by the Spanish in 1533, gained independence around 1830, currently celebrating 28 years of unstable civilian democratic government.

Thousands of Columbians seek refuge in Ecuador to escape violence in their home country.
Ecuador won its first Olympic gold medal in 1996- Jefferson Pérez, on the
20 km race-walk
.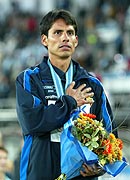 Foods vary by region, but guinea pig or "cuy" is a frequent food on special occasions.


PC ownership: 20.3 computers per 1,000 people

In Minnesota:

There is an estimated 10 to 15,000 Ecuadorians living in the Twin Cities.

The Guayaquil Restaurant at Bloomington Ave and Lake Street is fantastic, and actually has a tasty American style breakfast.